YouTube SEO: How to Rank YouTube Videos FAST in 2021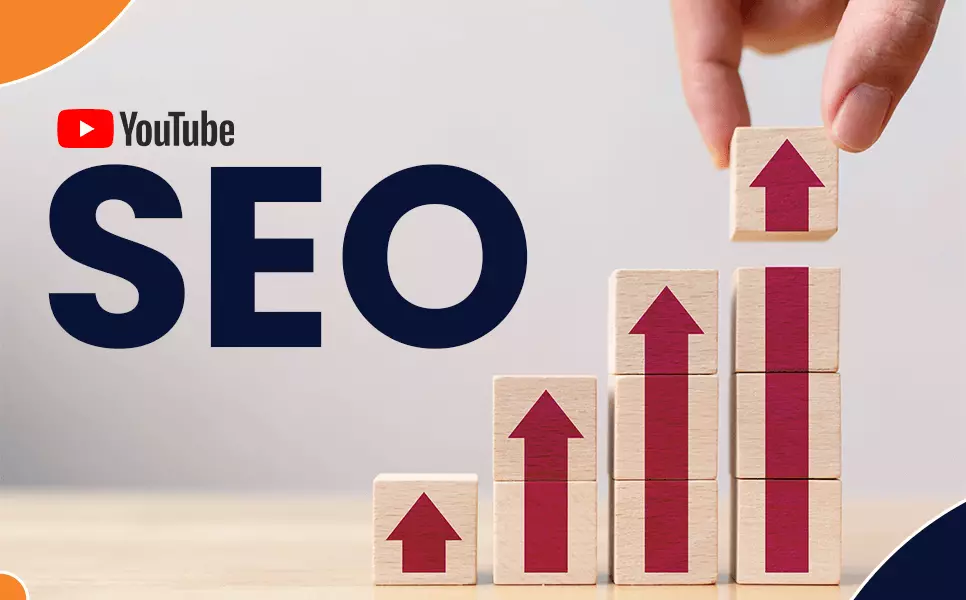 "Are you trying hard and yet not able to get any views on your YouTube videos?"
"You have spent endless hours producing and recording a quality piece of content and yet it fails to perform well"
Or
"You have shared it tirelessly on all social media platform, yet it has only 40 views"
If you have faced any of the above situations, or something similar, you have arrived at the best place where all of your queries related to videos ranking on YouTube or YouTube SEO will be answered and I will definitely help you in this regard. All your efforts of video production, editing and distribution might go in vain unless and until you are optimizing your video content for target audience with the right techniques.
YouTube SEO is a process of applying best practices of video optimization that includes relevant keywords in Title, Meta description, tags, videos script etc. Dividing your video into various steps and explaining the steps in the video description as well. A longer in depth video of the particular topic is preferred. A well-crafted YouTube SEO strategy not only limits you to get higher ranking in the YT search results, however, it empowers you to have more views, subscribers and organic traffic on your videos.
So, to enhance your channel with best YouTube optimization techniques and make you understand the whole procedure better, I have divided the complete process of achieving optimized videos into 6 stages. Let's dive in!
Why is YouTube SEO essential?
YouTube is the second most-visited website in the internet realm, following its parent company's search engine - Google. Moreover, as of May 2019, over 500 hours of video content is uploaded to the platform every single minute, which contributes to the 1 billion hours' worth of watch time generated by users every day.
So, why I am sharing all these statistics? My point here is that:-
YouTube has no scarcity of content creators as well as content consumers. However, it does require help deciding what content to show to what viewers. This is exactly where YouTube SEO comes into picture! When you optimize your YouTube video, you help the YT algorithm to understand what your content is about, to which viewers your content to be showed. Hence, it is super important for all the creators to make sure that their videos are fully understandable by the algorithm.
So, now again the million-dollar question that how our videos can gain more visibility and reach on YouTube's platform by executing comprehensive video SEO strategy! Let us learn this through this simple to understand yet powerful guide and uncover all the secrets to how to rank YouTube videos and do YouTube SEO properly. Let's get started!
How to Optimize Youtube Videos?
Step 1: Do YouTube Keyword Research correctly
Perhaps the most important aspect of YouTube SEO is doing Keyword Research effectively. Keywords are like the seeds of your strategy; these are the terms your target viewers are using to search for content similar to yours. But how would you know what are your target audience is searching for?
There are three answers for that:-
First of all, you can directly ask your prospects that how they ask/search for a particular product/service in the offline and online world. Potential customers and existing customers are the real gems as they are the real people who will be actually searching for your offering, so it's the best practice that you directly ask them because in some cases you might call your product as a bike and your customer may call it as a bicycle or you might call you're a game as soccer and some people may call it as a football. Hence, it's essential for you to better understand their perspective.
Secondly, you can think yourself that how your product/service/offering can be said and imagined by your viewers and do research on the basis of your intuition.
The third answer to this question is to analyze the previous searches of the viewers through various online keyword research tools and also offline interactive point of sale systems.
Always have a feedback mechanism of existing customers to improvise.
Let us discuss the research tool in details
My favorite one being…
YouTube Auto Search Suggest Feature
The best way to find keywords to optimize your YouTube videos is, well, YouTube itself! Here's how: March your way over to YouTube and type in the topic of your video. Youtube will suggest you a bunch of other keywords related to your query. There you go! In a matter of a few seconds, you have a bunch of keywords for your video.
But how do I know that these keywords will work out great for you?
These suggestions are not at all random. In fact, these are the keywords that users are already searching for on YouTube. These keywords have a good measurable search count from the users, so to help others about the similar kind of search by the new viewer, the algorithm suggests the keywords which have already searched and can direct you to that particular video which satisfied most of the users after they searched for that keyword! Hence always utilize these suggested keywords into your title, meta, content, tags and script!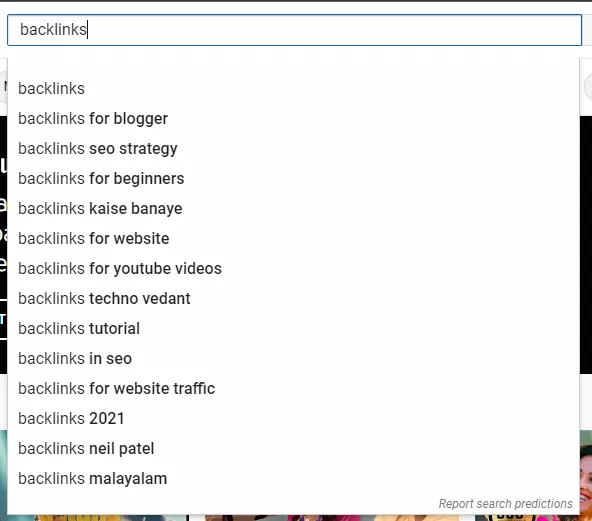 Next on my list of Keyword Research Tools is…
Google Ads Keyword Planner
The next keyword tool for your research is also from YouTube's parent company and is a powerhouse of real gems, it's none other than… Google Keyword Planner – an elegant tool by Google, pretty simple to use. All you have to do is type in a bunch of keyword ideas around your topic, filter by country you are targeting and hit "Get Results". It filters through the most searched keywords on Google and presents it to you along with competition and average monthly searches of each keyword. Leverage these keywords according to the country you are targeting and their respective search volume. A pro tip to rank fast is to make video on that video that have more search volume but less competition
Keep your Competitors in Check!
One of the best ways to find keywords, for your YouTube SEO strategy, that for sure will work is by stealing the keywords that worked for your competitors! All you have to do is filter their videos by "Most Popular" and find the keywords used by them!
Which Keywords should you Target?
It is pretty obvious that you can't use all the keywords you find while optimizing your Youtube video, you have to use the one which will prove most beneficial! But how do we do that? Simple – rely on Google! Search for the keyword, and analyze the number of results for the same.
For instance-
That's too high!
Let's try another keyword.
There you go!
We need to find keywords that have low competition, as it would be easier to rank for them! Else, your video will get lost in this ocean of content. Now that you know how to find and choose the right keyword for YouTube search engine optimization, let's understand how to utilize them.
Step 2: The On-Page Optimization of the Video
When I say on-page video optimization, I mean optimizing your video like you would optimize a blog! The blog title resembles as to video title, meta description resembles to video description, and you add keywords as tags. Simple as that! This step in the Youtube video optimization entertains 4 basic aspects. Let's explore them one by one.
Video Title
When it comes to the title of your video, you need to focus on two major factors to take it from a good to a great video title. First, let's focus on the copywriting aspect of it. Your video title should be catchy and should grab a viewer's attention at once, encouraging them to click on your video with powerful call to action. Second, is the SEO aspect of it. Along with the viewer, you also have to catch the attention of the algorithm.
But how do we do that?
With the skillful use of keywords, of course.
Make sure you use your target keyword in the title, that too in the first half, so that both the algorithm and viewer know they are at the right place. However, be wary from the practice of keyword stuffing.
For example, let's look at a SEMrush Youtube video…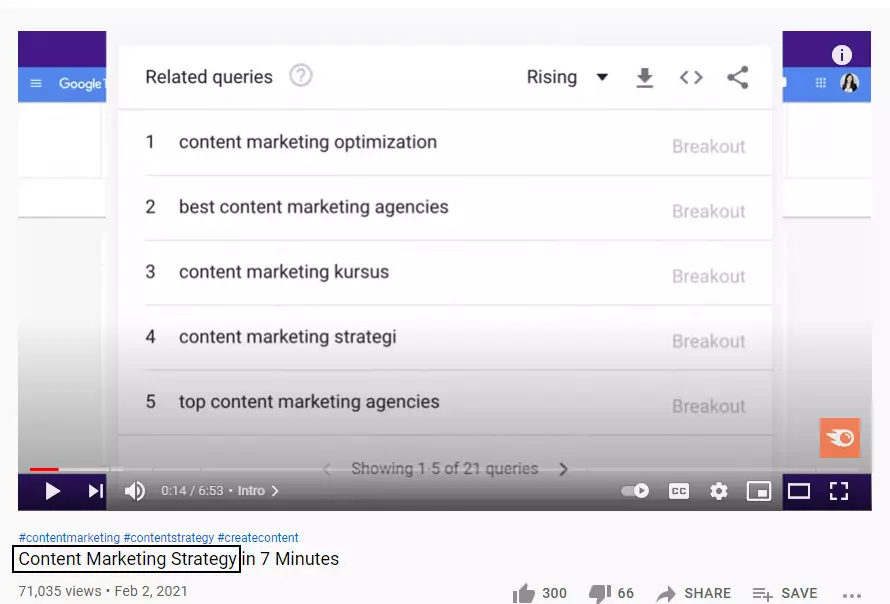 Here the title is 6 words long, but contains only 1 keyword – "Content Marketing Strategy".
This is actually a proven practice.
A study by Briggsby.com found that every 9 in 10 top performing YouTube videos had at least a part of keyword in its title.
Video Description
It is a 5000-character space that allows creators to explain their viewers (and of course, the algorithm) what the video is about and what value can be obtained from watching the video. Needless to say, using relevant keywords and that too with same intent in the description can prove to be extremely helpful in obtaining higher ranks.
Let's take the same SEMrush YouTube video to cite as an example…
Pleasant keyword placement as well as calculated keyword density… That's how you do it!
Video Tags
Video Tags is a space where you add your seed keywords and its variants, and other tertiary keywords that you might have covered in your video.
Let's take a look on the tags used by SEMrush in their video…
Tags are not really a crucial part of your Youtube SEO strategy. However, they do have a small role in helping your video pop up in the recommended videos section on YouTube.
The same study by Briggsby.com found that videos with more tags tend to perform better.
Thumbnail
Thumbnails act as a complement to your video title. They are a graphic depiction of your title. A good thumbnail also contributes in increasing the click-through rate on your channel, which is an important YouTube ranking factor. Thus, it is crucial that you create a custom thumbnail that fits the narrative set by the title.
In fact, Creator Studio has found that 90% of the top performing videos have a custom thumbnail!
Let's look at a few thumbnails from Ahrefs' YouTube channel…
As demonstrated here, Ahrefs uses man's image with his persuasive and demonstrable actions, defining the clear topic that's what inside, few images of the product and a background that enhances the main images. So, we can learn lot of things from Ahrefs.
Simple, quirky and catchy. However, abstain from the practice of creating "clickbait-y" thumbnails or titles, as it would do more harm than good to your video.
Step 3: The In-Page Optimization of the Video
Just like you optimize the content in your blog, there are aspects of a video you have to optimize to rank on YouTube.
These Youtube ranking factors include the following five…
Subtitles & Captions
Although YouTube does automatically transcript your video, it is not always 100% accurate. Thus, it is necessary that add accurate subtitles & captions to your video. Moreover, translate the transcript in all the native languages of your viewers.
This will benefit you in 2 main ways.
First, it will help you reach a wider audience, which means, more traffic, more engagement and a higher ranking. Second, it becomes yet another way for your video to get indexed and ranked on YouTube. Thus, it is crucial to actually say your target keyword in the video!
YouTube Cards & End Screens
The purpose of Cards and End Screens is to keep a viewer on your channel for as long as possible!
Let's see how…
Cards are interactive elements you can add during the course of your video to point the viewer to another video/website/channel/playlist, or to take a poll, or to donate to a non-profit. For example, in a book there are few difficult words that the author thinks that the reader might not know its meaning so for better understanding, it highlights the that particular keyword with a star and gives the meaning of it in simpler words either at the bottom of the page or at the end of the book. Video cards works similarly.
They appear in the top right corner of the video.
Much like in this Ahrefs' video…
End Screens are yet another powerful tool that allow you to trick the viewer to stay on your channel for a longer period of time. You can utilize the last 5 to 20 seconds of your videos that embed links to another video/website on your channel, and even add a CTA to subscribe.
Here is brilliant example from a HubSpot video…
If you are still wondering how these elements would help you rank on YouTube…
Here's how: Cards & End Screens clubbed with appropriate call-to-actions inspire the viewers to take action as well as spend more time on your channel. This contributes in generating a higher watch time – a crucial YouTube ranking factor and ultimately contributes in ranking the video.
Filename
Not a very significant factor, but it still holds a place in this list. To improve upon your YouTube SEO a bit more, I suggest "naming" your video file using your focus keywords before uploading. For instance, from "untitled4.mp4", you can rename it to "youtube_seo.mp4".
Video Category
Categorizing your video is one of the simplest ways to improve its YouTube SEO. Once you categorize your video, out of 15 categories provided by YouTube, through Advance Settings, its chances of appearing in playlists with similar content, as well as get recommended to people watching similar content increase. This means more exposure, more traffic, more engagement and ultimately a higher Youtube rank.
Let's learn what you can do after publishing your video to increase traffic and ranking of your content or as I like to call it…
Step 4: The Off-Page Optimizations of the Video
By now you pretty much would have understood the analogy I have been trying to draw between optimizations of written and video content. Which brings us to the off-page optimization of your YouTube video; meaning, what you can do outside the video to drive traffic and gain higher ranking. There are numerous ways you can do this, however, not all of them are supper-effective.
My top 3 methods are…
Promotion on social media
It is, undoubtedly, a good practice to have a multi-platform presence, as it helps you draw traffic from all corners! Utilize all the major platforms to distribute your videos such as Facebook posts, posting on FB page, its communities and groups, Instagram posts, stories, Linkedin posts, its groups, Twitter, Mix, TikTok, Telegram, Whatsapp groups etc. You can also utilize your blogs and embed video links in it apart from sending links to the email subscribers. Mind the intent of your video and that of the platform.
Embed Links on Quora
One of the most fruitful ways to drive traffic for higher ranking is embedding the video links in a Quora answer. Answers should provide some real value to the readers which will eventually direct them to your YouTube channel. For instance, here a person shared a link while providing some sort of value to the readers.
All you have to do is find a relevant question, answer it and add link where it stands relevant to the content. That's it! This practice is great if you have no audience and are just starting out!
Share Links through Newsletter
When you publish a video, the best way to get it out to your viewers is by sending them a newsletter through email. Email marketing is the way to go if you want quick traffic on your videos by just one click! The trick, again, is providing some value along with the video link.
Focus on User Engagement
User Engagement metrics including, Watch Time, Audience Retention, Comments, Likes/Dislikes, and Subscriptions of course, are very important YouTube Ranking Factors. Why? Because they help the algorithm understand how viewers are responding to your content. Are they loving it or are they skipping it?
Let's look at these one by one and understand how you can maximize engagement for higher ranking on YouTube…
Watch Time
Watch Time is the accumulated time spent by viewers watching videos on your channel. This is an important YouTube ranking factor, as it indicates how much video content is being consumed by users. There are several ways in which you can maximize the watch time on your channel, however, I have found the following two as most fruitful…
1. Create Playlists
Creating playlists on your channel is the easiest way to gain more views, maximize viewer retention, as well as watch time, as it compels viewer to spend more time on your channel.
The best practice is to add not more than 5 to 6 videos in a playlist.
A well optimized YouTube playlist has a really good chance of appearing in the YouTube SERPs. Yet another way for you to get a higher ranking!
2. Create Longer Videos
Yet another way to generate more watch time is to create longer videos. Now what is longer video? Analyze your competitor's video length – duration. Longer is a relative term hence, focus on that. While many believe that short videos are preferred more by viewers, the working of YouTube algorithm suggests the converse. In fact, a study conducted by Brian Dean of Backlinko found that longer videos outrank shorter videos.
Comments
When does a viewer comment on a video? When they like it and decide to engage with it! Thus, comments are a key engagement factor that influences YouTube ranking. You can definitely encourage your viewers to comment on your video or take feedback spontaneously. In fact, the study mentioned above found that videos with loads to comments rank better.

Thus, it is important to encourage your viewers to leave comment on your video after watching
Likes/Dislikes and Shares
The easiest way to understand user sentiment towards a video, for both algorithm and you, is the number of likes and dislikes on it. When it comes to "Shares", they tend to strongly influence a video's ranking in the YouTube SERPs. If you are wondering why is that? Well, people share a video widely only when they enjoy it so much that they recommend it to others and YouTube takes their word by awarding your video a higher ranking!
Subscriptions
A viewer subscribing to you channel after watching a video will always remain an important ranking factor! Because it sends a signal to the algorithm that a viewer liked your content so much that they decided to become a permanent part of your audience. You can encourage viewers to subscribe to your channel by simply asking them to subscribe to the channel at the end of the video. Another effortless thing you can do is use your branded watermark as a subscribe button. This subconsciously prompts viewers to subscribe to your channel!
No, no, the show is not over yet. The best part is yet to come! Sure, you can't change the video after it has been uploaded, but what you can do is learn from mistakes. That's how you improve after all.
Step 6: Analyze, Learn, Improve
This is the part where you swoop down to the realm of performance reports, a.k.a., YouTube Analytics. If you are still perplexed what YouTube Analytics has to do with Youtube SEO, just bear with me for a few moments. YouTube Analytics shows you how your videos performed on the platform with the help of multiple metrics such as session watch time, average percentage viewed, impressions click-through rate, etc. In short, they help you understand how viewers responded to your content. Thus, in order to optimize our video optimization techniques, we seek help from Analytics. Head over to https://studio.youtube.com/?csr=analytics check the following reports…
Watch Time Report
Since we know that Watch Time is an important ranking factor, analyzing your Watch Time report only makes sense, which you will find under the Overview Tab. It helps you understand when Watch Time spiked/dropped and you can analyze why that might have happened.
Audience Retention Report
Check your Audience Retention graphs to see where it rises and then analyze why it did rise. Similarly, see where it drops and analyze the reason behind it. In order to maximize your Audience Retention, you can utilize Cards (discussed in Step 3) wherever viewers tend to drop. You can also use Pattern Interrupts keep your video from being boring or too monotonous. The good news is, even the simplest tricks like a change in camera angle, a jump cut, or popping up graphics, work out great!
Traffic Sources: YouTube Search Report
The Traffic Sources: YouTube Search report, which you can find under the Reach Tab, helps you understand which terms did viewers search to find your video and the average view duration. Meaning, it helps you understand whether or not you fulfilled the search intent.
Here are my FINAL THOUGHTS on YouTube SEO
Anyone can understand and apply the technical aspects of video optimization, i.e., getting the title, description, and tags, etc., right. However, what is difficult to achieve, is User Engagement. The YouTube algorithm pays more heed to 'how viewers are responding to your video' than to 'how well you have optimized your video'. Thus, your YouTube SEO strategy, no matter how on point it is, will lag the game until you score great User Engagement with your content, so always encourage and interact with your audience to indirectly achieve your goal!
Follow this strategy and let me know how it works out for you!
Feel free to share.